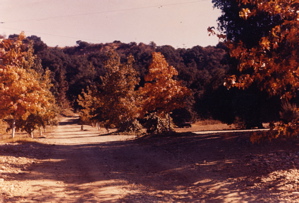 Liquid Ambers
They were planted
The year I was born
And we grew there, together.
They lined the drive
Marking the path home.
In the fall, they turned
A glorious rusty red
White-grey and straight
Dressed in Amber.
And the place got buried.
But this fall,
In an old music book,
On page 370
I found a perfect leaf
Marking the memory home.
© George Beckman
01/02/93
I grew up in San Dimas canyon. Mine was an ideal childhood, but the place got buried by 75 feet of silt from a dam higher in the canyon.
---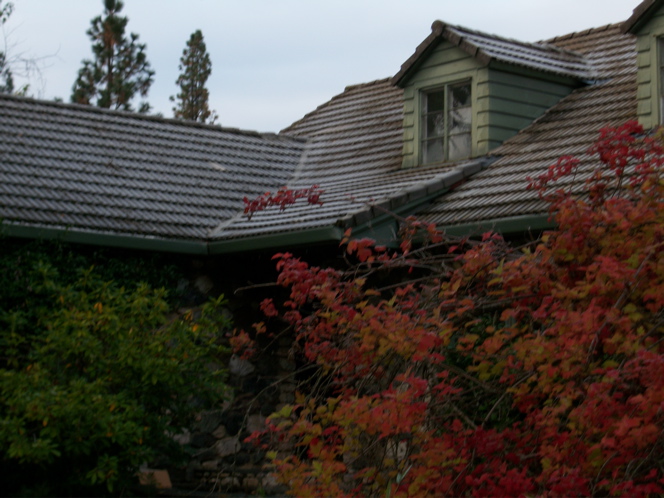 Fall Morning
The day the painters came
There was frost on the roof
Of Graestone.  I watched
The stillness from the GMC
As I had my tea and ate;
Red leaf and silver slate.
© George Beckman
11/5/11
---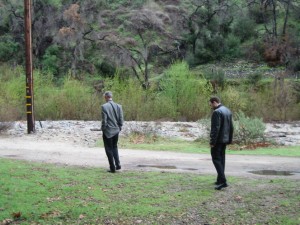 New Generations
Images forgotten, of us there together
Of rock, water and foundation spent.
Perhaps my thoughts otherwise ran.
It seems the day we buried Father
Three generations, remembering, went
To the cabin where the story began.
Matthew and I, perhaps restless, stir,
I in a gray coat, he in black,
Beckmans: pace and gesture tell.

And Rachel, so like her
Watching, through the lense-back;
Knowing to capture moments well.
Sleeping soundly in warm wraps
Lizzy was almost new
In Ruth's arms, pink, unaware.
Mother and Father, perhaps,
Were granted this present view,
If heaven allows such fare
Stretching time and memory long
Completing the generation song.
© George Beckman
02/25/09
Shortly after their marriage in 1935, my parents bought a cabin in San Dimas Canyon. After my father's graveside service, in La Verne, CA, we went up to the canyon, far above the place where I grew up.
---
A Connecticut Midday
Joan and Hal stood in the pebble drive
When we came and when we went
But between was the magic of
Pen and pattern
Becoming hand and heart
While time stood still.
© George Beckman
11/23/08
Joan Vayo is one of my favorite poets. She met my mother at a Ball State Writer's Conference. Ruth and I visited Joan and Hal one day in the fall of 2008.
---
The Smell Of Pump House Water
The pump house was faded green
Even though we painted it once.
The wooden tower, tall and rough hewn
The slab of cement rumbling with
Distant motor vibrations
The door and walls
Good for leaning.
The door scrunching open
The motor doubling its whine
Faint electrical warmth
Stacks of Popular Mechanics
Even in summer, musty smelling.
Outside the pressure tank, cool
To warm, little boy hands and cheeks
And listening ears.
The faucet scooshing cool water
Battering green leaves.
Well water always
Smelled like geraniums.
© George Beckman
12/31/93
The pump house was at the bottom of the Canyon place. One of my jobs was to water the oleanders. I can still hear and smell the pump house when I think about it.
---
Visitor
A small deer came past my eye
In my garden seat tonight.
The sun was long spent- twilight;
Tree black was upon the sky.
Away she stumbled, somehow
Slender legs yet too supple.
She wanted a green apple
That lost its grip on some bow.
She soon was fumbling in brush
Downhill from here, too clumsy
And young to move silently
In the quiet evening hush.
© George Beckman
August 29, 2011
Too much Frost, but I can't help it; he is just so good.
---
Colfax Rain
I sat in the pickup
Listening to the rain,
Drops echoing on the
Steel roof just as they
Did when I was a boy
But I didn't think of Father.
I learned to drive his '37 Ford
Pickup in the canyon years
Ago but my '37 Ford Pickup
Seems to be more part of
This world than of that
Pleasant time, long ago.
I sat in the pickup
Listening to the rain,
Drops echoing on the
Steel roof just as they
Did when I was a boy
Content to hear the rain.
March 13, 2012
© George Beckman